Member Login

Customer Testimonies
"THANK YOU! If there were a Vendor of the year award it would go to MacKinney! I wish all the Vendors carried the same passion for their jobs and in fact passion for finding the issue even when it's not yours! You have truly displayed commitment on a new level."
~ Belinda Tinsley, Systems Programmer, Thomas & Betts Corporation
"We enjoy our JQP and JRB products a lot. We use the JRB product extensively. Users review their reports online or get copies of them via email. They also print parts of the reports at their local printers. Our productions jobs are set up to send emails at the end of the job with the max CC of the job. This helps everyone track our daily business processes and react accordingly. Users like the web piece of the online JRB report feature. JQP lets us print directly to printers throughout the building from the mainframe and print IP to our Solimar and IBM printers. Thanks and keep up the good work."
~ Johny Mercer, Systems Programmer Sr., Idaho Department of Labor
"JQP and JRB are a snap to install, configure and tailor to business requirements. The support staff provides a level of customer service that should be the envy of the industry. Price, performance and customer support make MacKinney Systems products attractive. The software works!"
~ Richard C. Ladd, Department of Information Technology, Onondaga County
"This is working like a charm! Thanks for the very quick turnaround. Not something I usually get from a vendor!"
~ Frank Swarbrick, Applications Architect - Mainframe Applications Development , FirstBank Data Corporation - Lakewood, CO
"JES Report Broker has been a godsend to our shop. When we began testing JRB in April 2004, we needed a replacement for a VSE product. In late December 2003 we switched operating systems from VSE to OS/390. Being able to use JRB to split out reports, etc. has been an efficient tool for us."
~ Richard W. Kennedy, Operations Info. Tech. Dept., Caddo Public Schools
JES Report Broker
Deliver reports using FTP, Email and the Web
Render your z/OS documents on a secure browser just as they would appear if they were printed.
Automatically archive, FTP or Email your JES documents.
Convert to PDF, PCL*, or POSTSCRIPT.*
AFP support available*
If you have installed Mackinney Print Transform (MPT) you can render AFP (Advanced Function Printing), for example: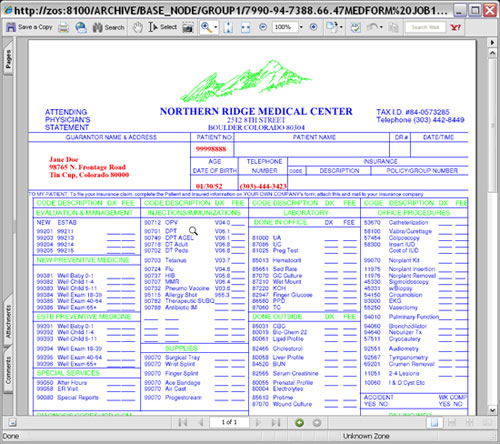 ---
*with Mackinney Print Transform



 Related products:
MacKinney Print Transform - Convert AFP documents into PCL, PS or PDF.
JES Queue for Printers - JES2 output queue printing to VTAM and TCP/IP printers.
VTAM Virtual Printer - Route online application output to the system spool.